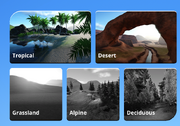 In Sandbox mode, players will be able to create the park of their dreams with unlimited funds. Zero financial stress means players can experiment, build and demolish to their heart's content. No pressure to succeed. The only goal is to have fun. 
There are several sandbox themes to choose from. Those include:
Ad blocker interference detected!
Wikia is a free-to-use site that makes money from advertising. We have a modified experience for viewers using ad blockers

Wikia is not accessible if you've made further modifications. Remove the custom ad blocker rule(s) and the page will load as expected.